It's easy to use and efficient!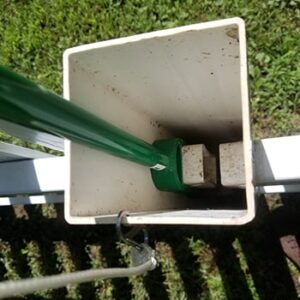 Just position the tool over the rail tabs, push down on the tool, and slide the rail out the post!
One tool, one action – depress tabs on both sides of the rail simultaneously, making it easier and quicker than other methods.
No fumbling with putty knives.
No forcing shims into place, only to slip.
No struggling with multiple pieces at one time.
The weight of the handle is reduced making it easier to handle with more weight at the bottom.
Spacers can be added between the forks to accommodate almost any width of fence.
The tension of the forks can be adjusted.If you have a thinner fence, you can loosen the nut.If your fence is thick and tight like in the video, you can increase tension by tightening the nut to ensure the tabs are depressed as required.
Think it's hard to remove fence rails?
Think again! This tool allows you to really "Do It Yourself," easily depressing tabs on both sides of your fence rail simultaneously for easy, damage-free rail removal!