$47.00
Standard fork sizes available are for 1.5-inch-thick rails and 2-inch-thick rails. A custom size option is available in the pick list below.
The fork can be purchased with or without a 46-inch handle. Ordering without a handle allows you to customize your tool with a handle that best fits your needs. A standard painter's pole or mop handle from your local store or one you already have on hand will work if they have ¾ -5 threads per inch, Acme thread. (***The Acme thread end is about the size of a dime and a nickel will fit lose between the threads).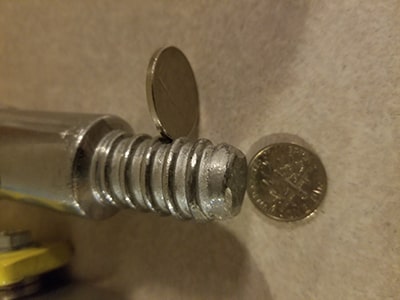 Your own handle should have strong threads and material with a diameter not bigger than 1-inch. Otherwise, it interferes with the Fence Rail Fork setting against the fence post. Additionally, telescoping handles must lock in place to be able to withstand the force of pushing the Fence Rail Tab Fork on the rail.
*For orders over 10 items, please contact us for shipping options
FORK ONLY – NO HANDLE
Additional information
| | |
| --- | --- |
| Size | 1.5 inch, 2 inch, Custom Size |